We're excited to introduce you to Contactless Ticketing!
Contactless ticketing means from purchase to entry, patrons have ease of access to your events through a digital process that limits contact. The ShowTix4U contactless experience includes:
Purchasers and Box Office staff can opt to have tickets delivered via SMS/Text Message (NEW!)
Purchasers can share and distribute tickets digitally to guests in their party via email or SMS/Text message (NEW!)
Patrons can open mobile friendly e-tickets directly on a mobile device (NEW!)
Integrating your audience into a completely contactless experience from purchase to entry can offset a portion of your box office expenses while promoting an Eco-friendly experience.
Ticket Purchasers: These are your patrons that completed the ticket transaction, for a single ticket or group of tickets. Their name and contact information is associated with the overall transaction.
Confirmation Email:
After a transaction is complete, the ticket purchaser will receive a confirmation email at the time of ticket purchase which provides access to all tickets and ways to distribute individual tickets to other audience members in their party. Included in the email:
Access to ALL tickets in the transaction. Even if tickets have distributed to individual parties, the group of tickets can be downloaded and printed.
If they've opted to use E-Tickets, ALL e-tickets are accessible to the ticket purchaser. Even if the tickets have been distributed, the tickets can be accessed via a mobile device for contactless ticket entry.
Also included in the email is a link where the purchaser can share individual tickets in transaction with guests in their party via email or SMS/Text.
Please note that SMS/Text will not replace a ticket confirmation email, this feature is offered in addition to the confirmation email.
SMS/Text
If the purchaser opts in to SMS/Text by entering a number using the Customer SMS/Text Phone field in their ticket confirmation email, the purchaser will be sent a text message at the time of purchase. This text will include a link to access ALL electronic tickets for that transaction (even if those tickets have been distributed).
Below is an example of where a customer or box office staff can enter their phone number to opt into receiving an SMS/Text containing their ticket link, in addition to their confirmation email.
Ticket Sharing
Both ticket purchasers and your box office staff can easily share individual tickets via email or SMS/Text with guests in their party to create an efficient and contactless process. After purchasing, purchasers or box office staff can enter guest names and email or SMS/Text phone numbers to share individual tickets to each person in the group.
Individuals in the ticket purchasers group will be sent a text the day before the event that includes a link access their ticket.
Below is an example of how easy it is for your customer or your box office staff to share individual tickets amongst a group of patrons just by entering their unique name and preference for contact.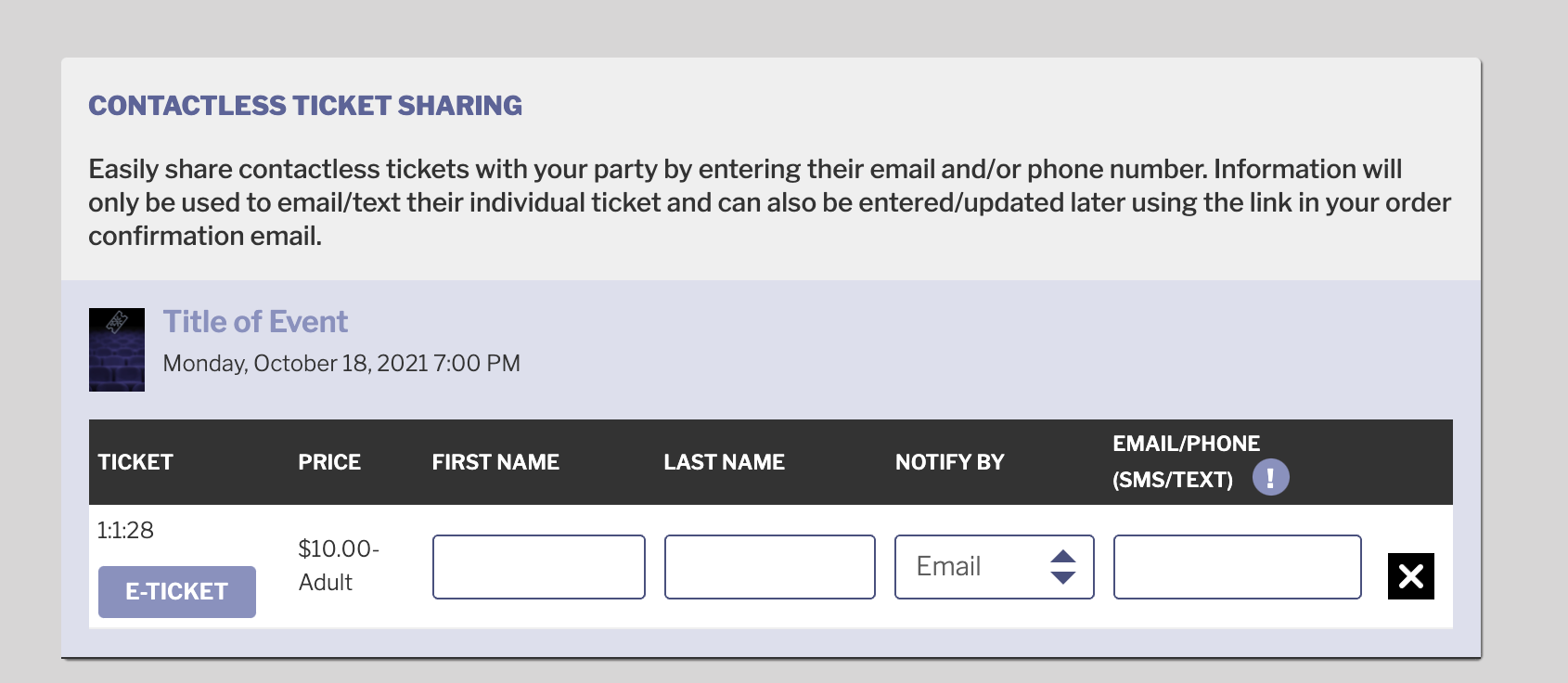 Mobile Friendly E-Tickets
The E-ticket includes valuable event information for the patron as well as event box office staff to verify entry. On an e-ticket you'll find:
A QR Code: On the day of the event, the event poster will automatically be replaced by a QR code which your box office staff can used to scan and validate entry.
"Checked-In": At the top of the E-Ticket, if the ticket has already been scanned and checked-in, a tag will appear at the top of the ticket "Checked-In." This means the patron has already checked in, or at least the ticket they are attempting to use, has already been used. This is a good place to verify details of the ticket, such as date/time.
"Distributed": This is another tag located at the top of the E-Ticket. If the ticket purchaser distributed the ticket to a guest in the party, a tag will appear at the top of the ticket "Ticket is Distributed."

T

his a way to alert the usher that that ticket may belong to someone else in the party.
Customer/Patron:

If the individual presenting the ticket is the purchaser, the word "Customer" and their name will appear at the bottom of the e-ticket. If the ticket was distributed to a customer's guest, the word "Patron" and their name will appear at the bottom of the ticket.
Please take a moment to review the E-Ticket example below. You'll see the 4 items mentioned above as well as the Title of Event, date, and time of your performance.
Box Office Transactions - Your Box Office Staff can use this too!
Box office staff have access to both the Customer SMS/Text phone field as well as the Ticket Sharing area. This minimizes the use of printers and paper offering an innovative, greener approach to ticketing.
After assisting the customer with their order and entering their mobile number, the customer/patron instantaneously receives their tickets via text message for quick and paperless entry to your event.
If you'd like to go a step further in contactless transaction, please take a look at the ShowTix4U POS Terminal which allows for contactless payment.
Viewing/Updating Ticket Sharing Contact Information
Staff can view or update Ticket Sharing information for a transaction by accessing the Main Menu, "Search." After finding a transaction, roll over the "Reprint/Email" button, and select "Distribute." Update Ticket Sharing information until the point the email/text has been sent the day before the event.
Unsubscribe for SMS and Distributed Emails
If a purchaser or patron would like to unsubscribe to ticket transaction communications, they should do the following:
Email: Click "Unsubscribe" in email.
Text Message: Reply "STOP" to text message
If a purchaser or patron would like to resubscribe to ticket transaction communications, please email tickets@showtix4u.com.
While you can unsubscribe from distributed emails, you can't unsubscribe from ShowTix4U purchase confirmation emails.
Arts Organization > POS Terminal Overview
Arts Organization > POS Terminal Setup Guide