Now you can receive your funds daily, weekly, or monthly and set up is easy! Below are the instructions for setting up your Stripe Connect Electronic Transfer. If you have questions about Stripe Connect, please see our FAQs here or email us at client@showtix4u.com. Make sure you have your bank routing number and account number ready, and log in to your ShowTix4U box office.
Setting Up Stripe Connect:
Step 1: From your ShowTix4U Box Office, click the account main menu in the top left corner. Select Preferences/Settings. Select Billing/Banking.
Step 2: Scroll down to Payouts and select Recurring Payouts
Step 3: Once you've selected Recurring Payouts, select "Click to Sign Up". OR if your financial representative/accountant/treasurer does not have access to your ShowTix4U account for set-up - you can copy/paste the URL and share it with them. This will allow them to complete the Stripe onboarding process. Whomever has the banking account information can just click the URL without needing to log in to your Box Office.
Step 4: You'll be directed to a Stripe Connect Page to complete onboarding.
Step 5: After entering your contact information, you'll be prompted to enter a verification code. From there you will be directed to either create a Stripe account or to log in to your existing Stripe account.
Step 6: Once you are logged in to your Stripe account, you'll continue onboarding.
Step 7: You'll be prompted to enter your bank routing number and bank account number. Click Save.
Step 8: You'll need to review all your information to ensure it is correct. Once you've confirmed the information is accurate, click Submit.
Step 9: Once you select Submit in Stripe, you'll be redirected to your ShowTix4U account and you should see this confirmation at the top.
Step 10: Scroll to the bottom of the page and you'll see a blinking green indicator next to the note "you are successfully connected for recurring deposits." From here, you can select the frequency you'd like to receive your payouts from the drop down menu. To view your recent payout reports, click Event Dashboard.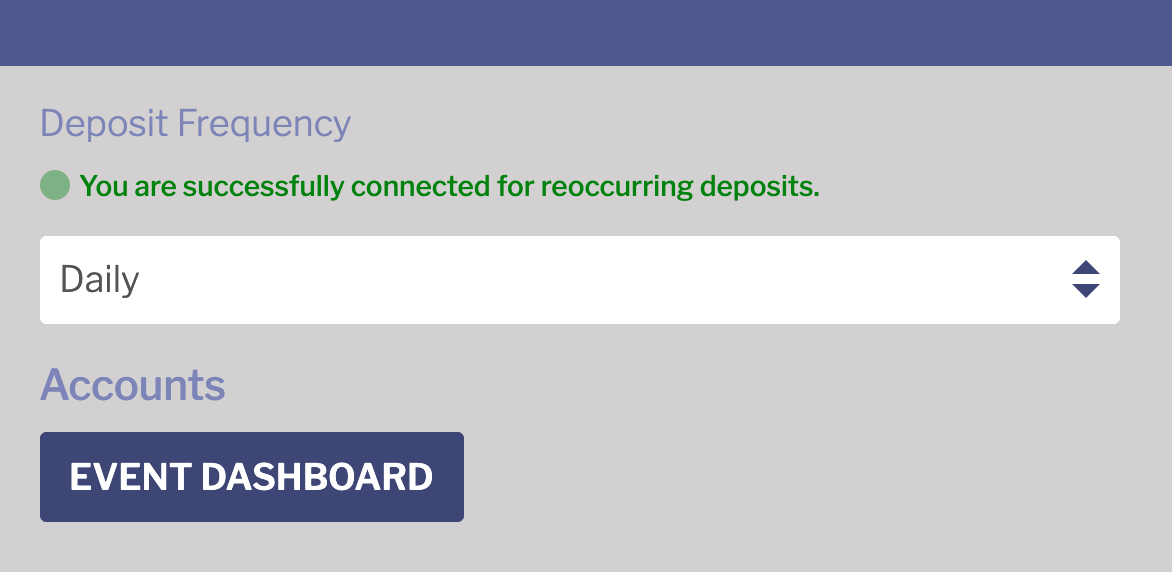 That's it! You're set up for Stripe Connect Electronic Transfers!
I'd like to create a separate account for donations.
Go to Payouts/Recurring Payouts, you'll see an option underneath the dropdown menu that will prompt you if you want to deposit proceeds into a separate bank account. Select this option. Under "Donation Account", select Click to Sign-Up. You'll go through the entire onboarding process again.